Trivia?
Quiz App for iPhone and Android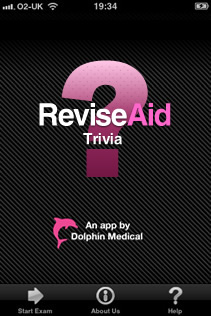 Trivia? will test your knowledge to the limit. Hundreds of forced choice questions on topics including history, geography, sport and many more to bolster your trivia repertoire. Think you're clued up? Our pub quiz primer will test you to the max. Even with the answer in front of you you'll still be baffled! And now we've added brand new sections on sequences, phobias and medicine to test even the smartest trivia aficionados! Think you know the biggest selling album of all time? Well test yourself on Trivia? and see how good you really are!

Including all the features you've come to expect from Dolphin Medical, Trivia? will keep your score so you can check your progress and you can even brag to your friends on Facebook or Twitter. What's more, each question has an explanation so you'll get smarter while you play! Good luck!
---
---